If you're a blogger, business owner, or online marketer, you know that having a website that ranks well in search engines is crucial for success. With 2023 well underway, it's time to take a fresh look at the best free SEO-friendly WordPress themes to help you improve your website's search engine rankings.
A great WordPress theme can not only improve the look and feel of your website, but it can also provide essential features that help search engines understand your content and rank it higher. In this post, we'll explore the top free SEO-friendly WordPress themes that can help you rank higher in 2023 and beyond.
Why do you need SEO-friendly WordPress themes?
Were you aware that search engines initiate 68% of all online experiences? Additionally, a study by Advanced Web Rank shows that 67.6% of search engine traffic is directed toward the first five results on the Search Engine Results Pages (SERPs). These statistics demonstrate the vital role that SEO plays in achieving success in an online career. It is imperative for website owners and bloggers to enhance their SEO in order to avoid losing traffic. Fortunately, SEO-friendly WordPress themes are available to aid in giving your site an effective SEO boost.
These WordPress themes are developed to comprehend search behavior, work in tandem with search engine algorithms, and ensure that your site's codebase adheres to optimal SEO practices, which makes it easier for Google bots to crawl your site. As a result, your website will achieve higher rankings and more traffic. There are a plethora of SEO-optimized WordPress themes available, and we have curated a list of the top 25 best free SEO-friendly WordPress themes. You can find detailed information about them below. We have also answered some frequently asked questions about SEO themes, so keep reading until the end.
Several Fascinating Facts about SEO
The first-page results of Google Search are extremely important, with 71.33% of organic clicks going to that page.
A mere 0.78% of searchers opt to click on results from the second page.
A significant portion of website traffic, 53.3%, originates from organic search.
Google Search, Google Maps, and Google Images collectively account for a vast majority of global traffic, which totals 92.96%.
In addition, SEO yields 1000% more traffic than social media.
Factors to Keep in Mind While Choosing an SEO-Optimized WordPress Theme
Although numerous SEO-friendly WordPress themes exist, it can be overwhelming to choose the right one. However, analyzing these key elements will assist you in distinguishing the best SEO-friendly theme from the average:
Built-in SEO
The main purpose of selecting an SEO-friendly theme is because it includes built-in SEO features that improve search engine rankings. The SEO-optimized design expedites the process with minimal effort, and when combined with on-page SEO techniques, it enhances efficiency.
Performance
Optimizing website performance is vital for any website, as even a mere one-second loading delay can cause an 11% bounce rate among visitors. Losing potential customers is not desirable, which is why we suggest selecting a minimal theme that caters to your niche and is optimized for peak performance.
Design and Customization
When selecting an SEO-friendly WordPress theme, it's essential to consider its design and customization capabilities. Approximately 38% of visitors tend to abandon websites with unappealing designs, making it crucial to have an attractive website. A theme that offers ample layouts, designs, templates, and customization options can be immensely helpful in achieving this.
Responsiveness
An ideal SEO-friendly WordPress theme should be responsive and mobile-friendly, capable of smoothly adapting to any screen size or device. This ensures that your website appears pixel-perfect and provides an optimal browsing experience for all visitors.
Plugins Support
If your SEO-friendly WordPress theme lacks the necessary features and functionalities, you can always install plugins to compensate. With various plugins available for different purposes, ensure that your theme supports all popular plugins to expand the site's capabilities.
Multimedia Content
Incorporating multimedia content such as images and videos can enhance your site's appeal and make your content more captivating. It also contributes to your SEO efforts by improving your site's ranking. Research shows that 20% of US searches originate from Google images. Moreover, including videos on your site makes it snippet-worthy, increasing the chances of more clicks. Therefore, it is crucial to select an SEO-friendly WordPress theme that allows you to add multimedia content with ease.
Social Media Integration
Increasing referral traffic by up to 31%, social media is a powerful tool to promote your website. By adding social media backlinks to your site, you can significantly enhance your site's visibility and attract more traffic. Some SEO-friendly WordPress themes come with in-built integration with various social media platforms. Therefore, it is essential to select a theme that supports social media integration to leverage the benefits of this powerful tool.
Multiple Call-to-Action Options
To maximize the chances of converting visitors into leads, it is essential to add multiple CTAs (Calls to Action) at various spots on your site. A theme that supports multiple CTAs will help you achieve this goal. The more CTAs you add, the better it is for your site as it increases the likelihood of visitors taking action. Therefore, when selecting an SEO-friendly WordPress theme, make sure it allows you to add multiple CTAs at different locations on your site.
Client Support
In case you encounter any challenges or questions related to the theme, it's always helpful to have access to a reliable support team. You can easily reach out to the support team for assistance and resolution of any issues that you may encounter.
List of some of the best free SEO-friendly WordPress themes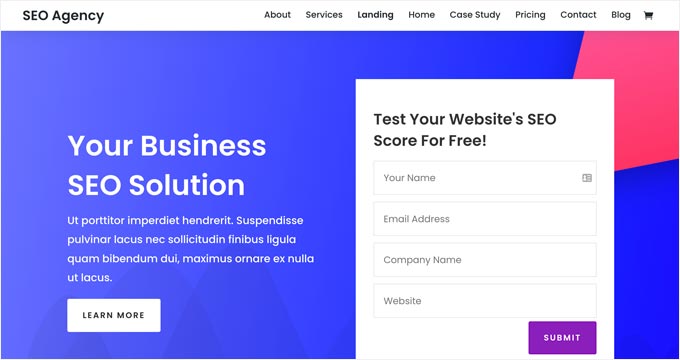 Divi is a popular WordPress theme (WP theme) with a multipurpose approach. It's suitable for any type of website. It has built-in SEO optimization making it a perfect choice for search engine experts.
With hundreds of layouts, it's easy to set up your professional website in just a few clicks. Divi adds extra options to your WordPress admin panel and also provides a built-in visual website builder so you can get your site looking just how you want.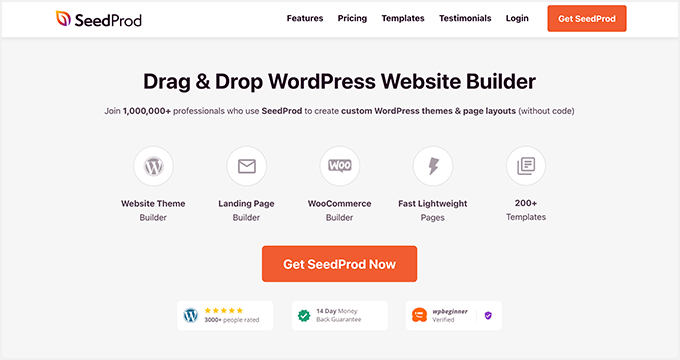 SeedProd is the most popular WordPress theme and website builder. It lets you design a fully custom theme for your site from scratch and meets all SEO standards without any extra effort.
Moreover, you can import a ready-made website template in 1-click and then customize it using the SeedProd drag and drop builder. It also comes with hundreds of landing page templates to add to your site.
SeedProd is a complete package and a one-stop solution to launch your business website easily.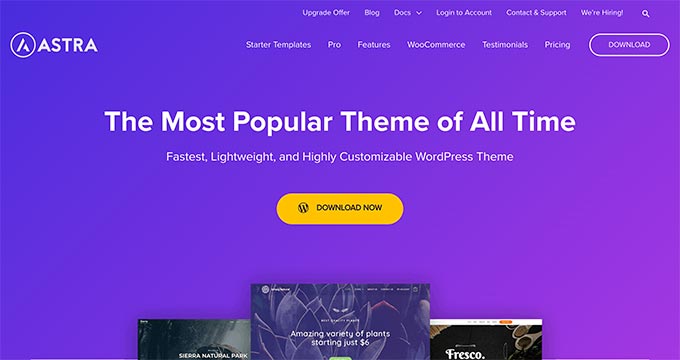 Astra is a powerful WordPress all-purpose theme and one of the best SEO expert themes. It comes with several starter sites for different business niches, making it easy to find a template for your website.
Astra supports drag and drop page builders such as Visual Composer and WPBakery. It's also compatible with premium plugins for WordPress.
You can also use the WordPress theme customizer to edit your theme settings for Astra. This lets you see a live preview of your site as you make changes to things like your header styles, fonts, colors, and more.
Astra works perfectly with SEO plugins like All in One SEO and Yoast SEO for the optimization of your website. You can easily add shortcodes to your posts and pages as well as widget-enabled areas.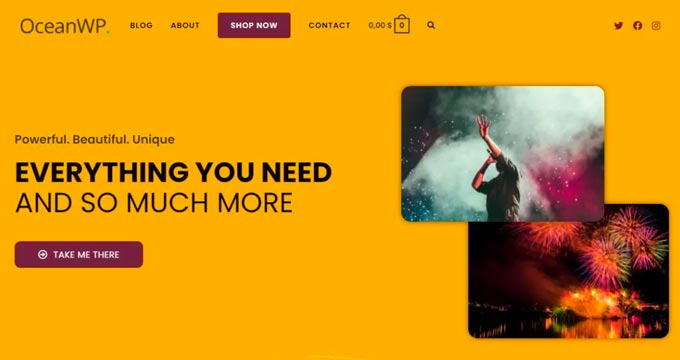 OceanWP is a WordPress SEO theme designed for any kind of website. It comes with free and paid demo sites that you can import in 1-click to launch your website.
OceanWP is SEO friendly and offers a great user experience. It has multiple addons for social media icons, a sticky navigation menu, user registration, and more. OceanWP is translation ready to create a multilingual website easily.
Ultra is a retina ready multipurpose WordPress theme with ready-made layouts suitable for SEO experts. You can install the templates in 1-click, including the demo content. Then, go ahead and replace the content with your own.
Ultra includes the Themify builder, which lets you edit any page layout with a simple point and click interface. Inside, you will find multiple header designs, blog layouts, page templates, and sidebars. You can even use Ultra's addons to include pricing tables, countdown timers, and more on your site.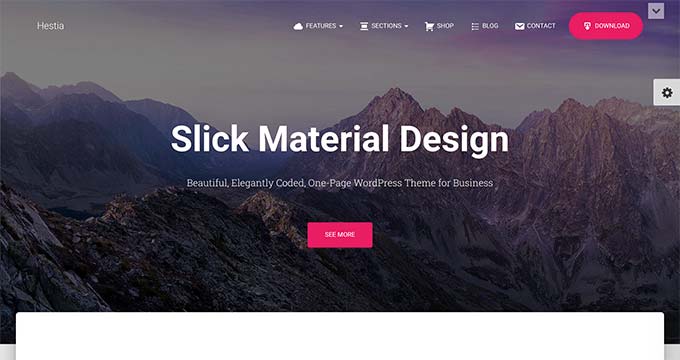 Hestia Pro is a classic WordPress theme for SEO experts and marketers. It comes with a one-page and multi-page template, so you can select the right design for your site.
It's easy to edit and manage using the WordPress customizer. The theme fully supports WooCommerce to start an online store and rank well in search engines. It also uses responsive design to look great on all devices, and works with all popular WordPress plugins.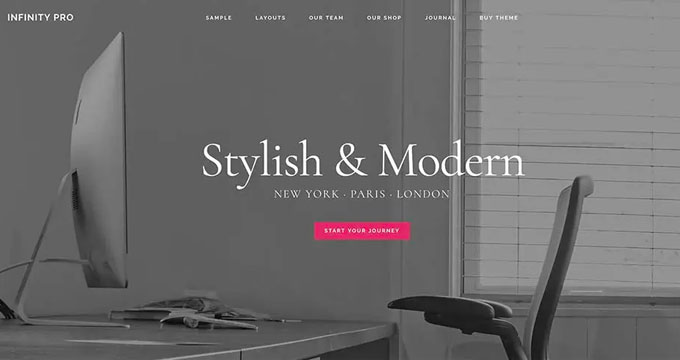 Infinity Pro is a WordPress business theme that lets you easily optimize for SEO. It has an elegant black and white design, the perfect set of colors, and a full-width header template. It's also fully mobile responsive.
With over 10 widget areas, you can easily customize the theme to add your text, images, and other media content. It has a powerful theme options panel to make changes to your site.
StudioPress is now part of WP Engine, the most popular managed WordPress hosting company. You can get this theme and all 35+ other StudioPress themes when you sign up for WP Engine hosting to build your website.
Bonus: WPBeginner users also get an additional 20% OFF. Get started with WP Engine today!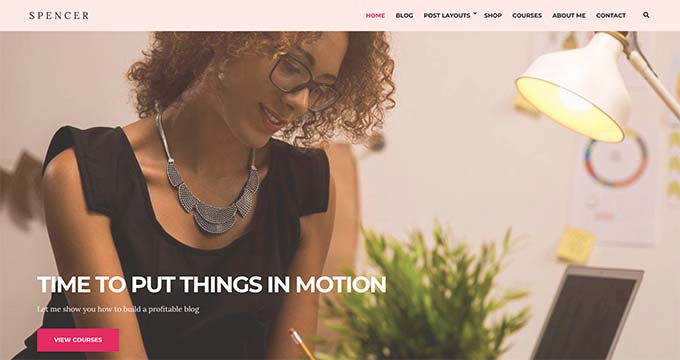 Spencer is an elegant WordPress theme for SEO businesses, online marketing agencies, and entrepreneurs. It has a modern business homepage which is easy to set up with simple drag and drop widgets.
It comes with ready-to-use templates to add a landing page, contact form, about page, and a separate blog page to your site.
Corporate is an online business theme that's suitable for any type of SEO company website. It's a great choice for SEO agencies and SEO experts. It ships with several ready-made landing page designs and a built-in drag and drop builder to edit them easily.
Corporate has multiple layout choices for different page templates, a smooth background color effect, CSS animations, testimonials, and more. It comes with a beginner-friendly theme options panel and a 1-click demo installer.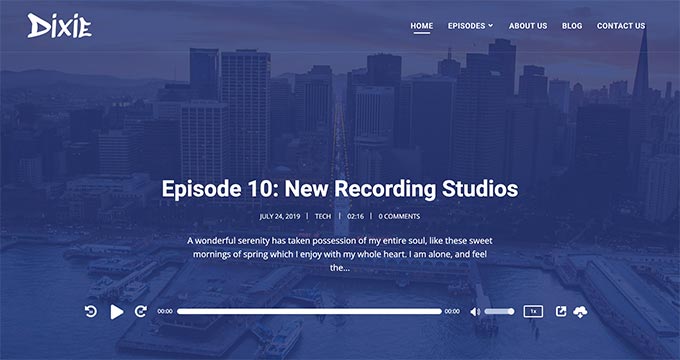 Dixie is a WordPress podcast theme built specifically for podcasters and content producers. It lets you share your SEO podcast and rank highly in search engines to get more audiences online.
When it comes to theme features and functionality, Dixie offers masonry layout options, an episode slider, audio, and video players, infinite scrolling, pagination, and more. It makes it easy to change the entire color scheme, too.
Conclusion
In conclusion, selecting an SEO-friendly WordPress theme is crucial for the success of your online career. With the help of a well-optimized theme, you can improve your website's search engine rankings and attract more traffic.
We have compiled a list of the 25 best free SEO-friendly WordPress themes that offer all the necessary features for better SEO performance. From responsive design to customization options, multimedia support, and multiple CTAs, these themes cover all the essential aspects to boost your website's SEO.
When selecting a theme, remember to consider its performance, design, customization options, plugin compatibility, multimedia support, social media integration, and multiple CTA placement. And if you face any issue while using the theme, do not hesitate to contact the support team.
By choosing one of these SEO-friendly WordPress themes, you can take a step towards achieving higher search engine rankings, more traffic, and ultimately, a successful online career.